"Hadar Precinct" police officers and Yad Ezer L'Haver Charity volunteers distributed hot breakfasts and food packages to homeless street residents in Haifa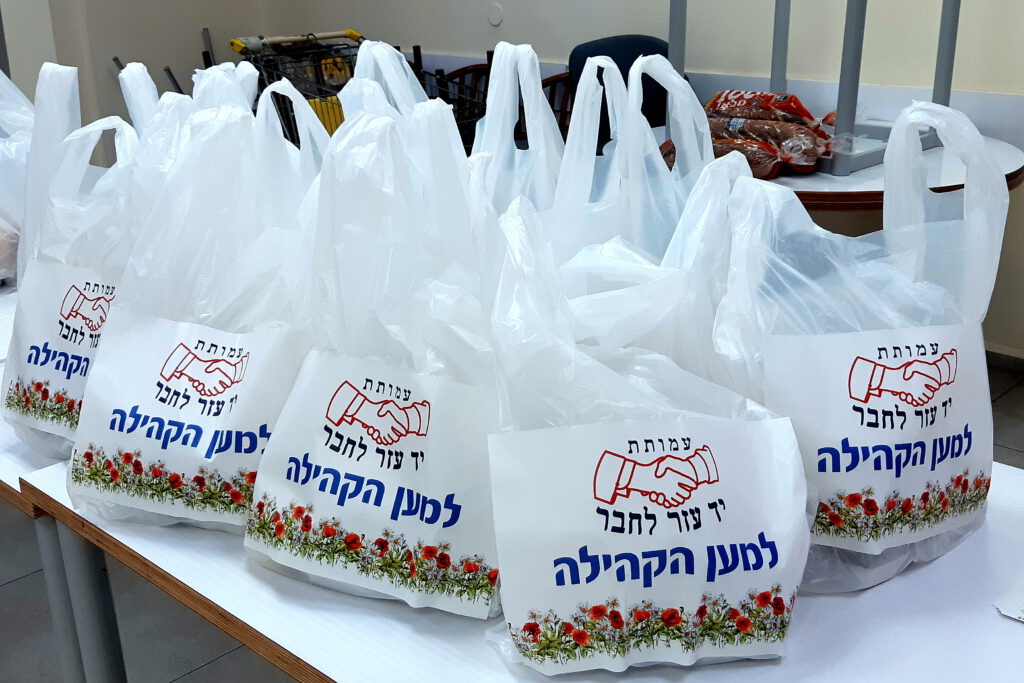 A group of police officers from the Haifa Hadar Community Policing Center, under the command of Lieutenant Colonel Ronnie Damin left their routine activities for a few hours and joined this morning (Thursday, June 25) Yad Ezer L'Haver volunteers and a social worker, Representative from the Haifa Welfare Department, in a heartwarming gesture. This fruitful and blessed cooperation in an exceptional, special and exciting operation of volunteer activities for the community and the homeless resulted in a wide distribution of food packages, basic consumer goods and blankets to dozens of homeless street residents the Hadar neighborhood.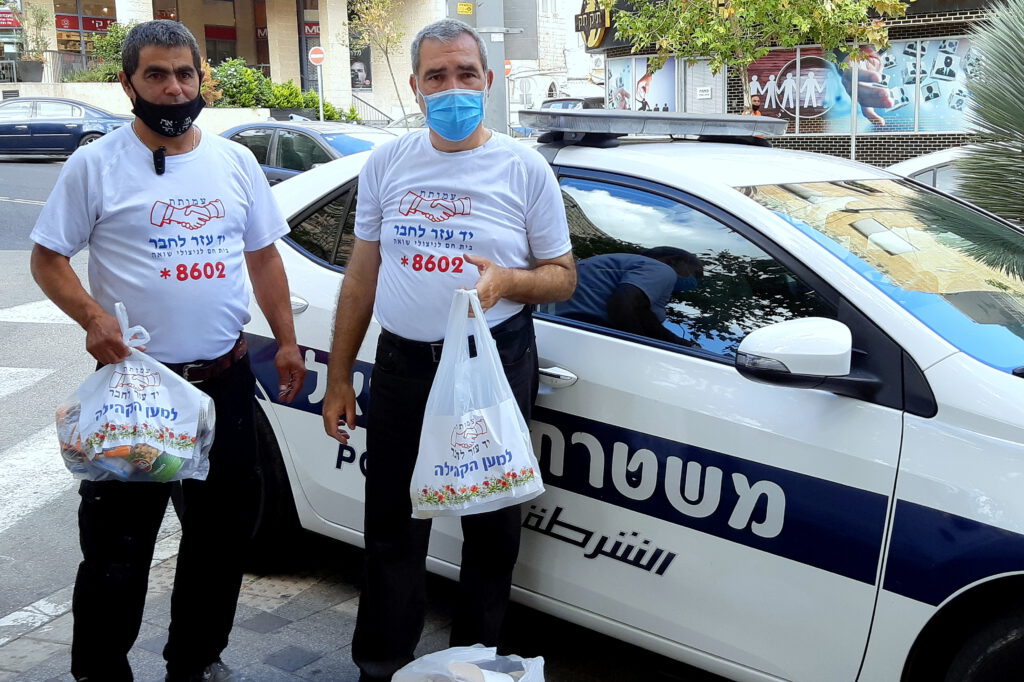 The policemen and volunteers of Yad Ezer L'Haver concentrated mainly on distributing food in the Hadar neighborhood, patrolling and canvassing most of the streets including Herzl, Hashomer, Barzilai, Yalag, Sirkin and all the Talpiot and Gan Binyamin market areas known for large concentrations of homeless people and street residents, most of which are known to the Israeli police and the welfare services in Haifa.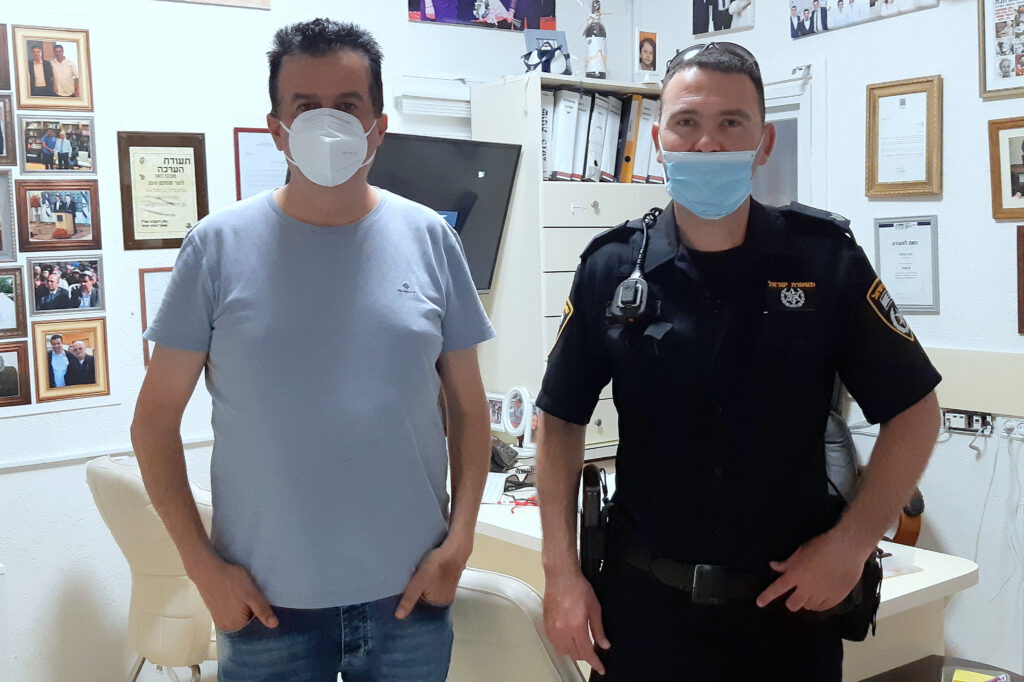 In the State of Israel, there are currently 3,000 – 2,500 street dwellers. Haifa, especially in recent years, manages about 250 homeless people, many of whom live in abandoned homes. Buildings condemned for demolition and those sealed many years ago due to their condition house a large amount of the homeless who break in and use the rooms in the building for accommodation and storage of their belongings.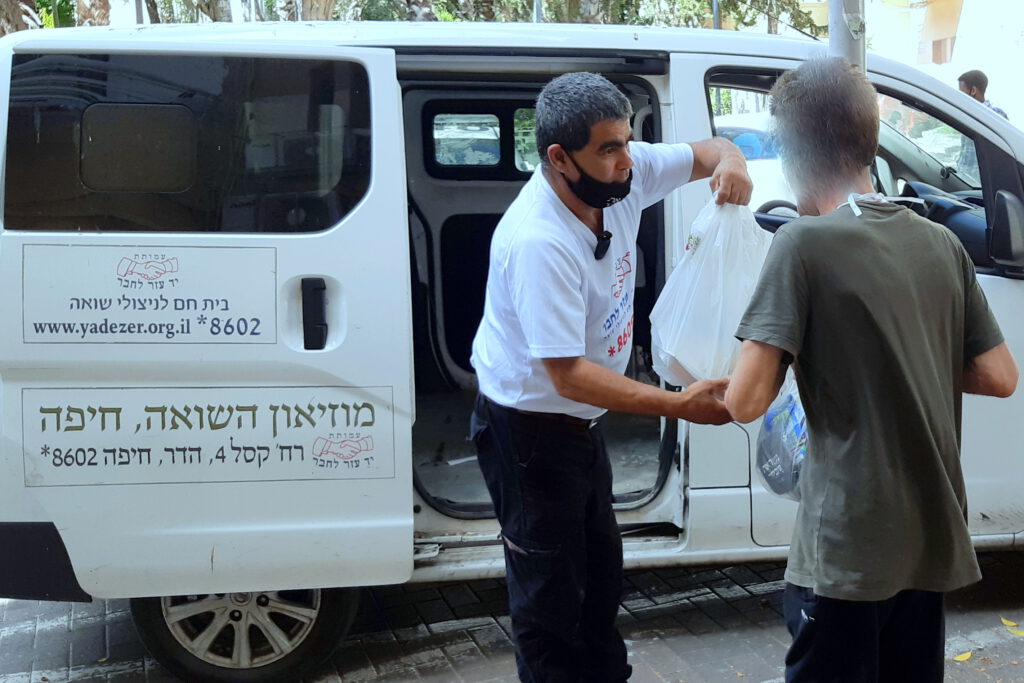 Every winter, a number of street residents die in Israel as a result of illness, cold and alcohol. In the city of Haifa two of them died last winter. Many homeless people have mental health problems, and experience separation from family and society, some of them by choice. They distance themselves from society, carry no IDs, do not wash or maintain any kind of personal hygiene, some engage in begging for alms, many are alcoholics and many use drugs. Most of the homeless are not interested in contacting the establishment, although anyone interested will receive help with housing and rehabilitation assistance.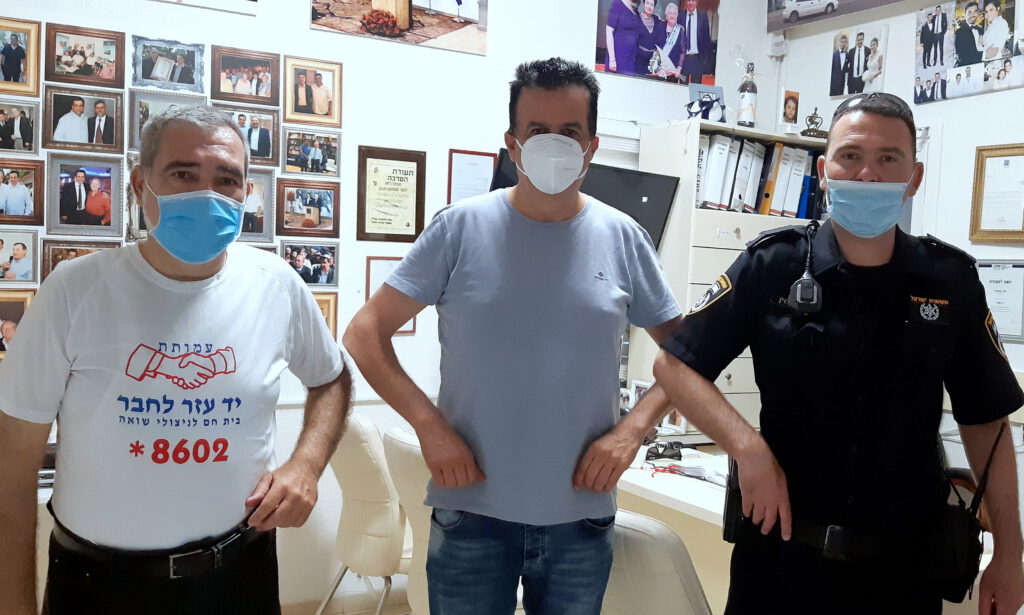 The Yad Ezer L'Haver Charity donated dozens of hot breakfasts prepared this morning by theassociation's chef and dining room staff, containing omelets, salads, tuna, dairy, white cheese, cottage cheese, chickpeas, fresh rolls, bananas and other fruit. Also included were dry food packages containing canned goods, coffee, legumes, sweets and more. Additional accessories were also included in the distribution, including various hygiene products, warm blankets and face masks against the corona virus.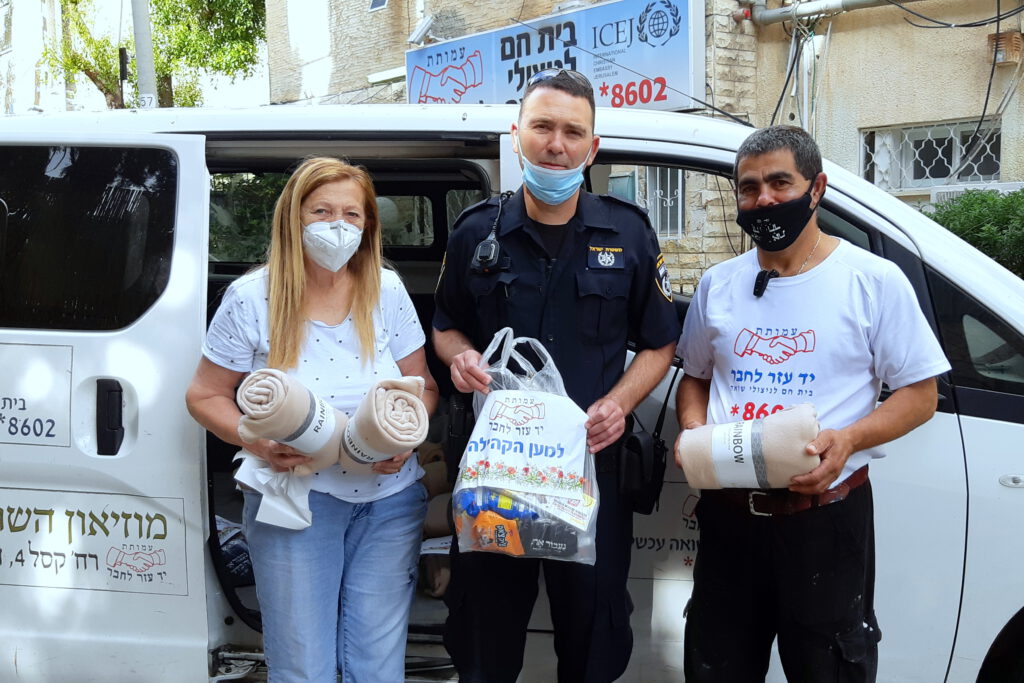 It should be noted that this extraordinary and blessed activity came to fruition and was carried out only thanks to the noble initiative of Lieutenant Colonel Roni Damin from the Community Policing Center in the Upper Hadar neighborhood located on Nordau Street in Haifa, with the assistance of Maj. Hagai Pankar, Commanding Officer of Lower Hadar Precinct and orchestrated under the command of "Hadar Quarter" commander in Haifa, Mr.Khaled Huri.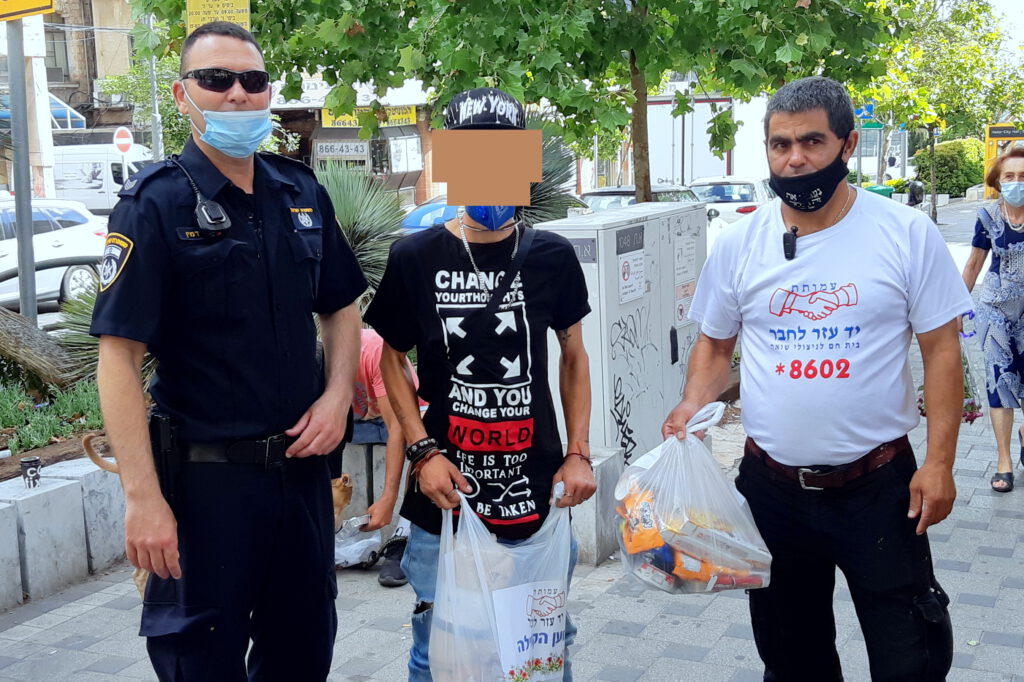 During a short respite in the distribution of food parcels, Lt. Col. Roni Damin said: "The model of street tenants, is a venture I started two years ago when I decided to help homeless people, the street tenants in the Hadar neighborhood of Haifa. I broadened the project and asked for cooperation, help and assistance of the founder and CEO of Yad Ezer L'Haver in Haifa, Mr. Shimon Sabag. I would like to note that Mr. Sabag did not hesitate for a moment and immediately joined the aid project for the homeless in Haifa. I was excited and delighted to see the smile on the homeless people's faces this morning, May we always be on the giving side. "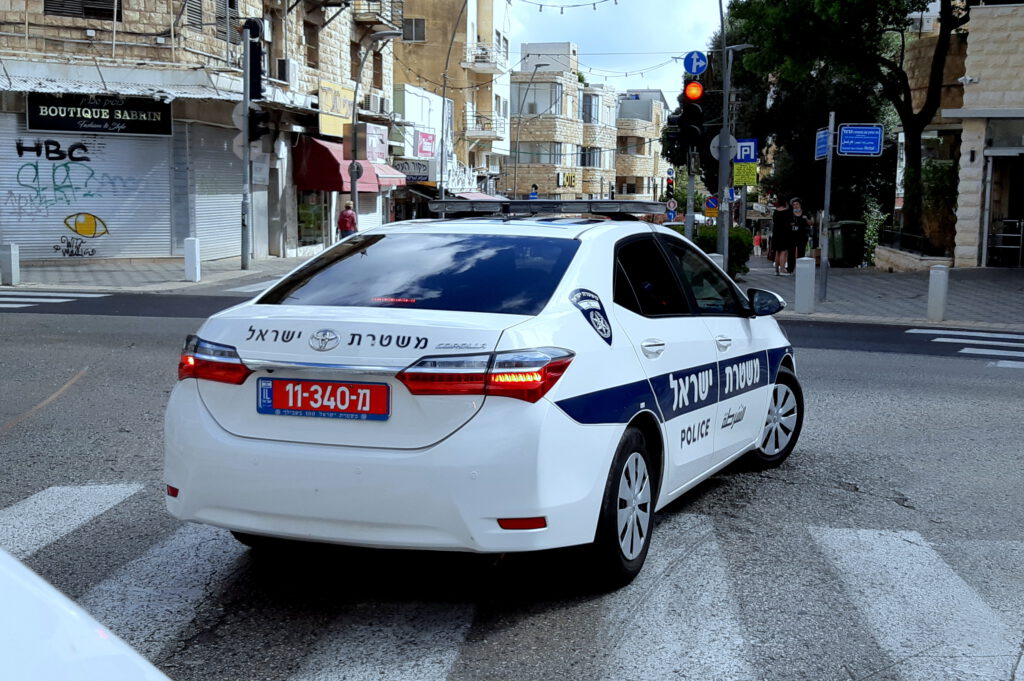 During the distribution of food parcels this morning, Founder and CEO of the Yad Ezer L'Haver in Haifa, Mr. Shimon Sabag said: "I would like to sincerely thank the Hadar police officers for giving us the priviledge and the opportunity to do a worthy and just act for people who cannot help themselves. As the saying goes: "whoever saves one life saves an entire world" and to me it is a great privilege that I and all the Yad Ezer volunteers can be part of it.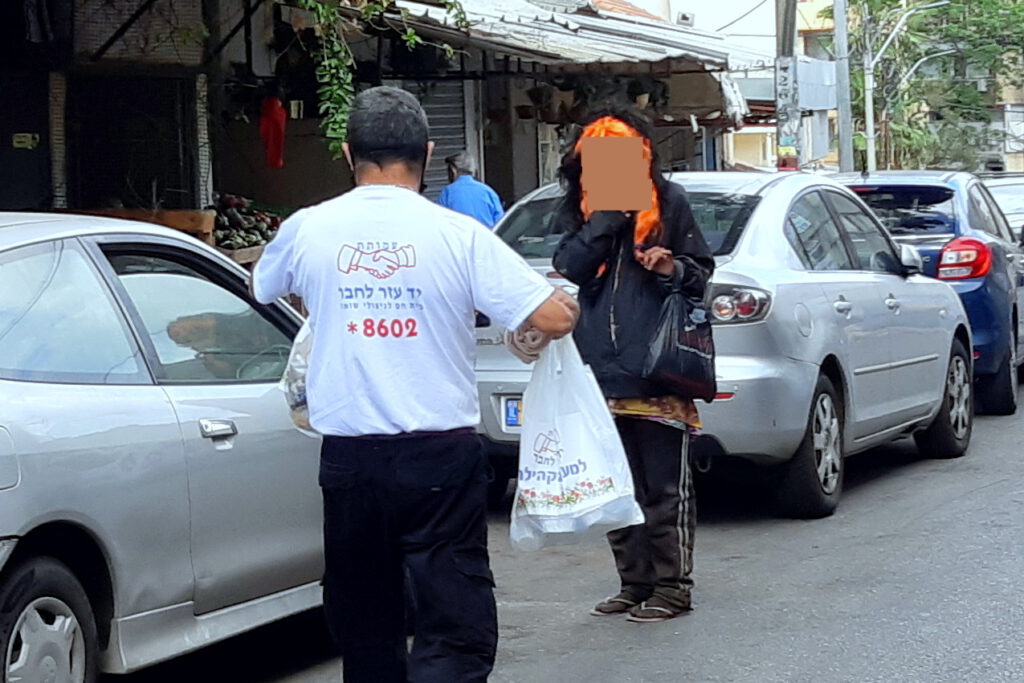 All Honors! to the Israeli police and the community policing of the Hadar Quarter and Lieutenant Colonel Ronnie Damin, this is a blessed and important project; especially in these difficult days of the COVID-19 outbreak in Israel, we must not forget the homeless people and their humiliating living conditions in the city of Haifa. It is very painful for all of us that this is the face of Haifa in 2020".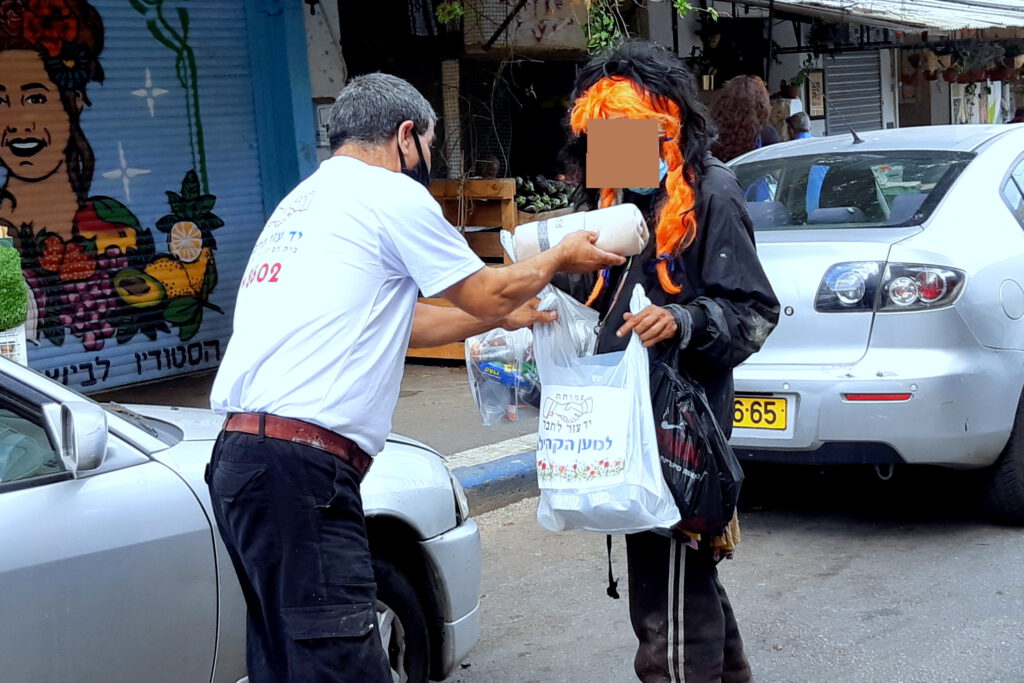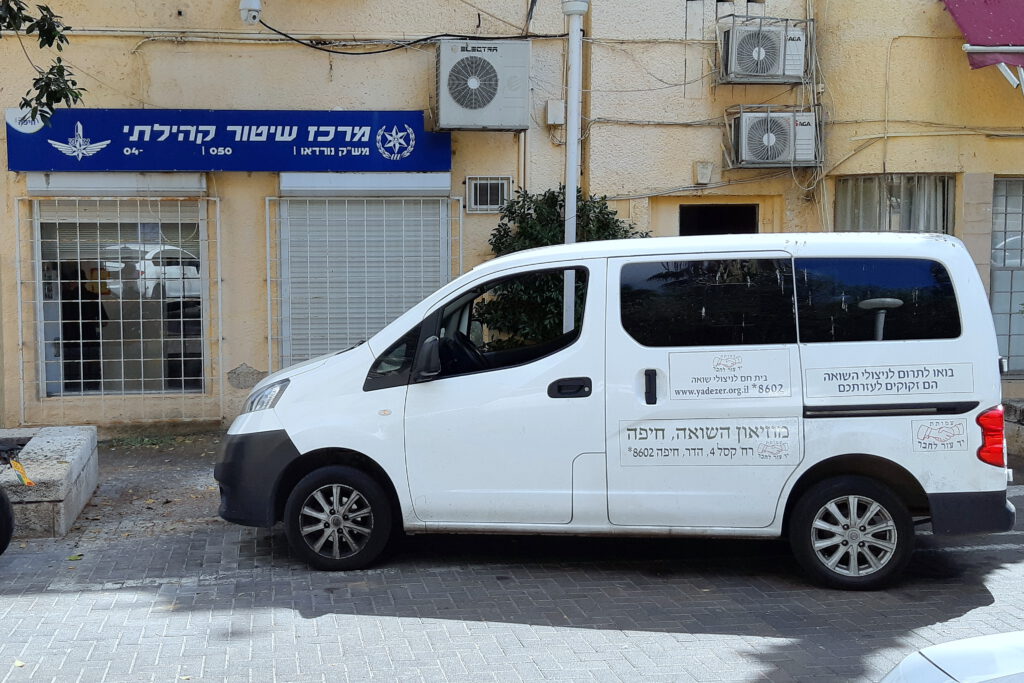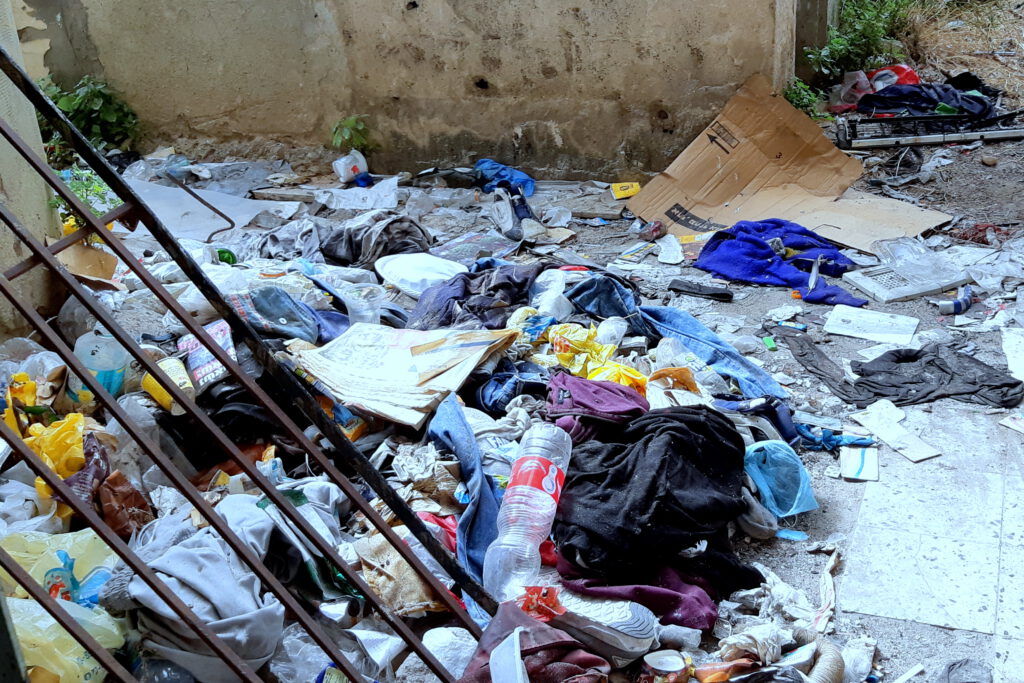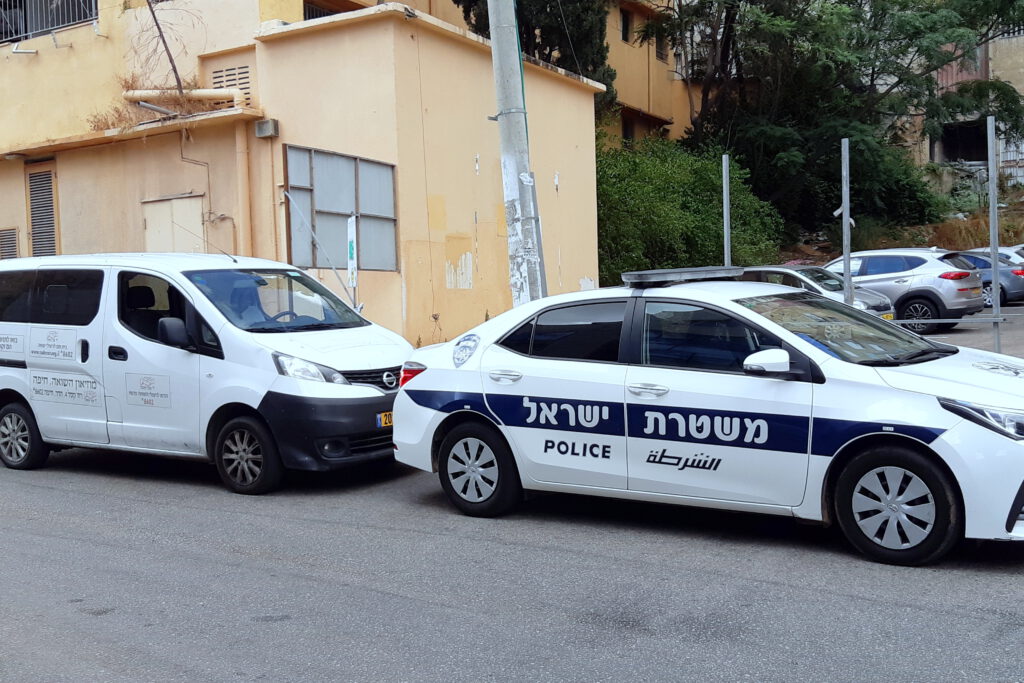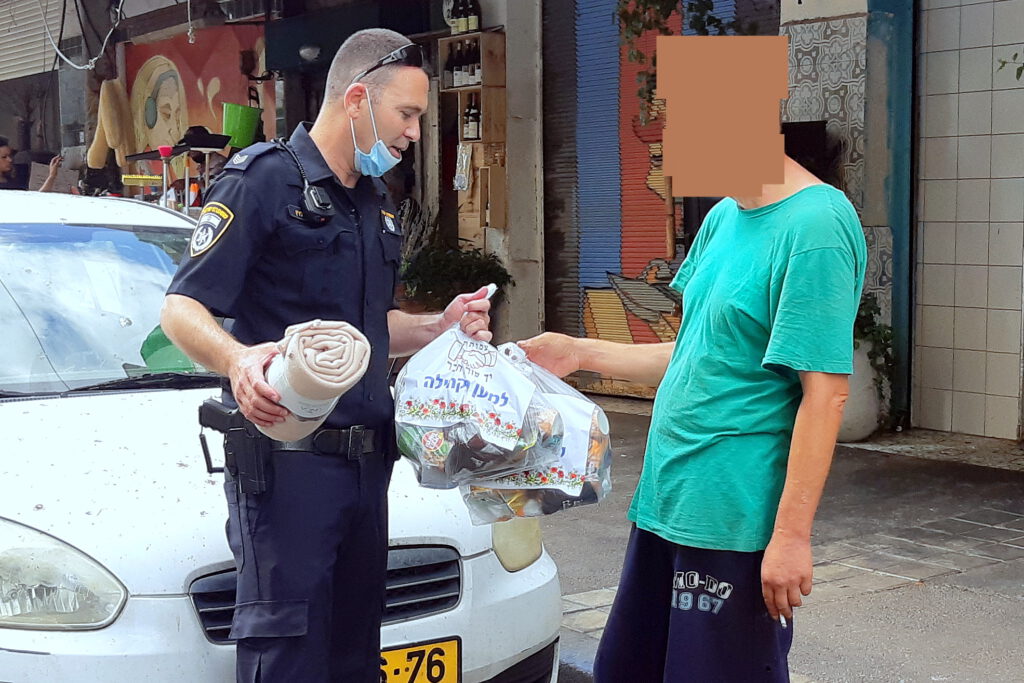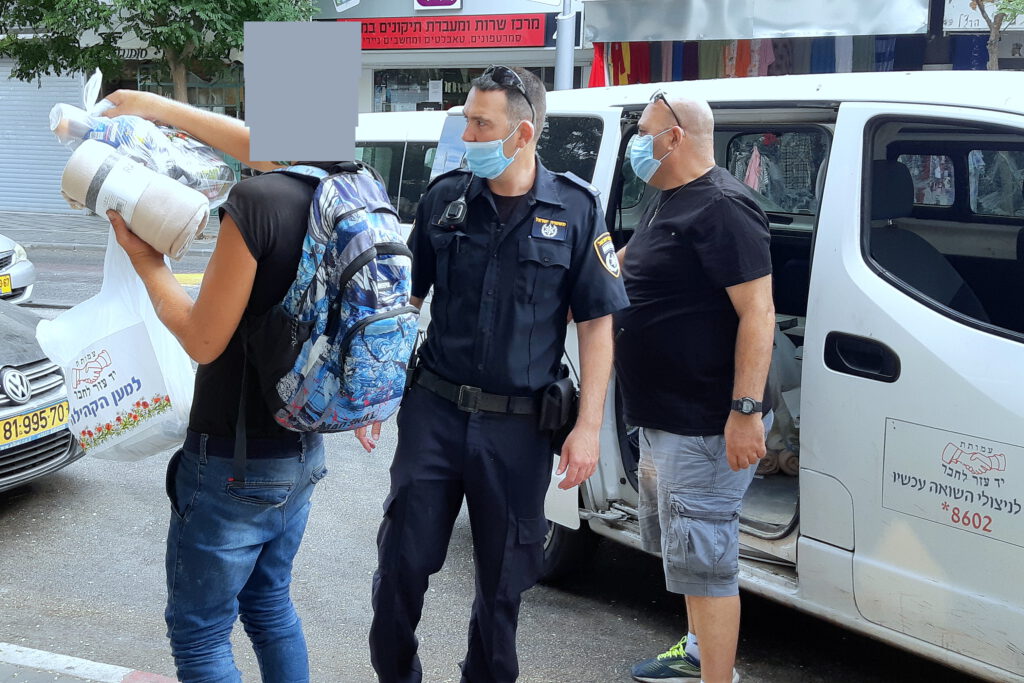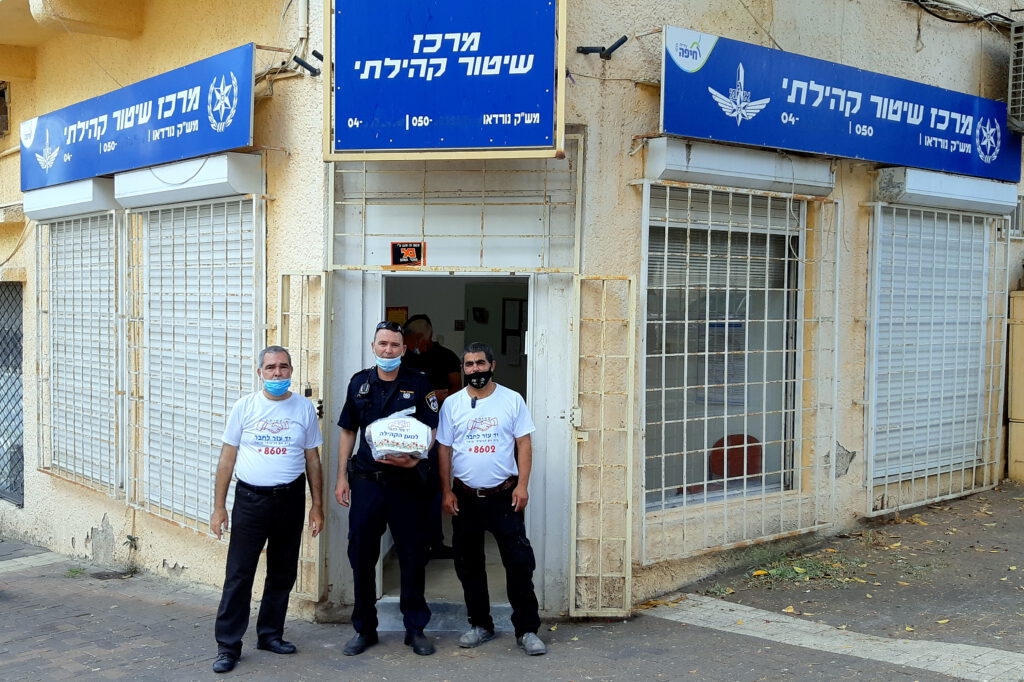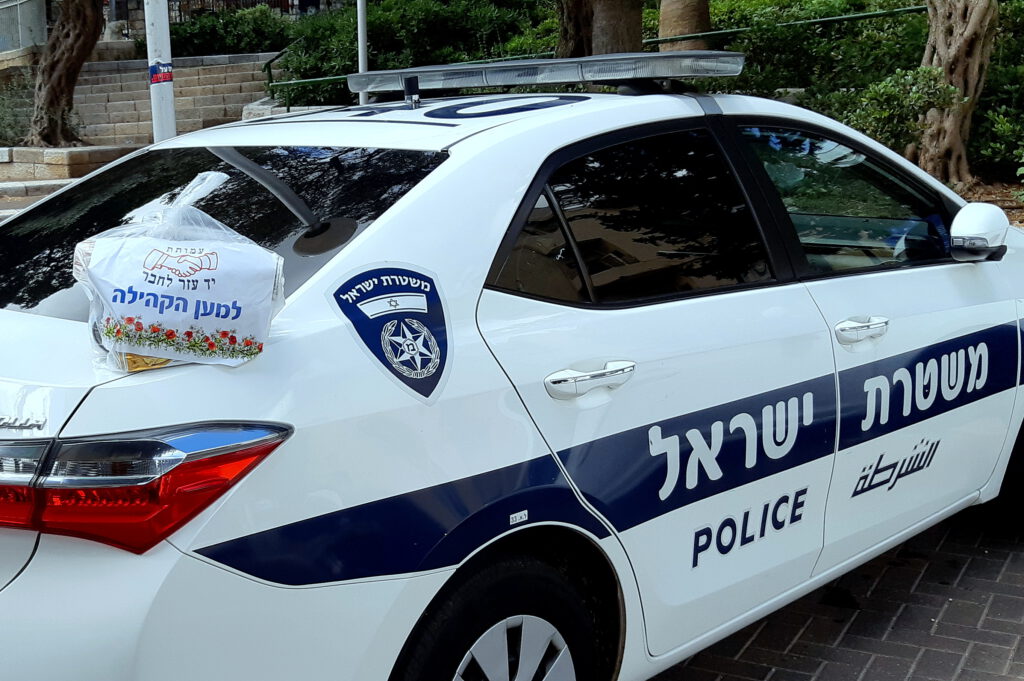 Photos: Adir Yeziref