Prime Minster
30 בApril 2020
To view the message of Israeli Prime Minister Mr. Binyamin Netanyahu click here !!! The ceremony for Israel's 72nd Independence […]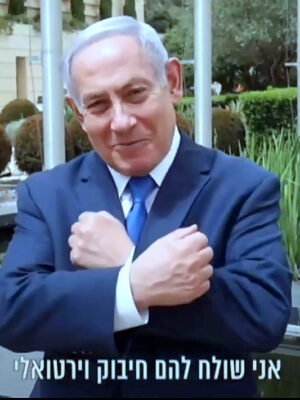 3 בFebruary 2016
The meeting took place on the occasion of the 'International Holocaust Memorial Day', which will fall on Wednesday 27/1/2016. This day is marked in the different countries of the world, and this date was chosen because it was the day when the extermination camp Auschwitz was liberated by the Red Army…to remember and not to forget!
During this most exciting meeting, Prime Minister Netanyahu said: "The Holocaust took place because the Jewish people had no country, today whilst we have a country with a strong army, we can cope with all of those who want also today to destroy us."
The Prime Minister further added to his remarks to the Holocaust survivors: "When I see all of you I say- the People of Israel is alive, and my duty as Prime Minister is to continue to concern myself that we have a country that can defend all its inhabitants.
For me your stories are not just a memory but a commandment." Prime Minister Netanyahu turned to founder and director of the foundation Mr. Shimon Sabag, and said to him: "I want to thank you Shimon, I am grateful to you for all the sacred activity that you do and on each day, for the benefit and wellbeing of the Holocaust survivors in general in Israel." Prime Minister Netanyahu was happy to hear that the Holocaust survivors are contented and blessed the fact that there is such a foundation as 'Yad Ezer Lechaver' that helps so many people.