Holocaust Survivors Get a Home in Haifa
A new home will help elderly Holocaust survivors live out their lives in comfort and dignity, thanks to an Israeli charity and Christian donors.
For a group of impoverished and aging Holocaust survivors, a new home dedicated in partnership between Israeli charitable organization Yad Ezer Le'Haver and the International Christian Embassy Jerusalem (ICEJ) will not only allow the elderly Israelis to live out their lives in comfort and dignity, but represents a forging of bonds of friendship between Israel and her Christian supporters.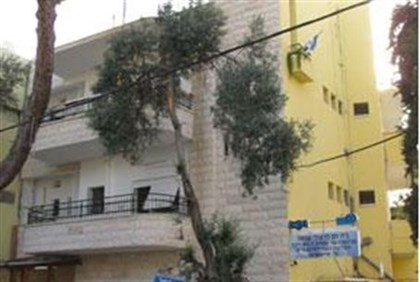 Over recent months, the ICEJ sponsored a project to acquire, renovate and expand an assisted-living facility in the coastal city of Haifa for indigent Holocaust survivors.
The project was initiated by Shimon Sabag, the founder of the organization Yad Ezer Le'Haver. Yad Ezer Le'Haver operates a soup kitchen, a homeless shelter, a shelter for troubled teenagers, a clothing and furniture distribution warehouse, a dental clinic providing free dental care to needy children and the elderly, and two children's houses in Haifa's poorest neighborhoods. In an interview with Israel National Radio's Walter Bingham, Sabag, whose mother was a Holocaust survivor, explained that he began to notice an increasing number of survivors showing up for free meals at his soup kitchen. He realized something needed to be done to care for those who had already undergone so much, and began researching facilities to house and attend to them.
Approximately 210,000 Holocaust survivors currently reside in Israel, with up to one third suffering financial hardship. Among these poor, many are unable to pay the high costs of health care on top of their basic monthly needs.
Sabag turned to the ICEJ, who likewise turned to members and supporters in Europe. In an interview by Bingham of International Director of ICEJ Jurgen Buhler, Buhler revealed that the overwhelming majority of the nearly $1 million required for the project came from German donors. Buhler said he believed this was because Germans are cognizant of their national history and are interested in showing "Christian love to Israel." According to Buhler, the largest donation came from a 45-year-old German attorney.
The money went toward the purchase and extensive renovation of a four-story building in Haifa.
The new facility will be able to provide all the residents' lodging, food, and medical care free of charge, with doctors and nurses from area hospitals volunteering to cover their health needs on an around-the-clock basis. The kitchen and dining area will also be able to feed additional local Holocaust survivors on a daily basis. More than 2,000 applicants, mostly survivors of Nazi death camps in Poland and Germany, signed up for a waiting list for the new facility. However, this facility was able to accept only an initial 50, followed by up to 30.
Reverend Malcolm Hedding, Executive Director of the ICEJ expressed pride in the project, stating,"We are seeking to honor those who have been subjected to unspeakable horrors and evil. We can never fully know or understand what they have been through, but we can give them hope, love, care, and most of all, dignity. They give meaning to why a Jewish state is needed and thus they teach us and most of all inspire us by their lives."
The inauguration ceremony was attended by Chief Rabbi Yona Metzger, Yad VaShem chairman and Chief Rabbi of Tel Aviv Yisrael Meir Lau, Interior Minister Eli Yishai, Communications Minister Moshe Kahlon, Deputy Defense Minister Matan Vilnai, Knesset Opposition Leader Tzipi Livni, and Haifa Mayor Yona Yahav, as well as other dignitaries and 2,000 Holocaust survivors.
"I feel like it's Heaven," Sabag told Bingham in response to the inauguration and completion of the project. Yet Sabag was surprised during the ceremony with a donation of an additional one million shekels, which will be earmarked to purchase an additional building on the same street, which will be put to use for an extra 50 Holocaust survivors.
On his program, Walter's World, Bingham noted that the Claims Conference, the official organization handling German and other restitution moneys, has been heavily criticized for emassing an investment portfolio of $1.25 billion, and not giving enough support to Holocaust survivors. Bingham reported that the Conference has admitted to fraud, with at least $7 million having been stolen.